Hair colourings
HAIR CREAM COLOURINGS
WITH ORGANIC ALOE VERA
FREE
PPD, Resorcinol, Ammonia, Silicon, Parabens
80%
of the total ingredients are from natural origin
(Aloe Vera - Chestnut - Ximénia - Ceramides of plants - Almond oil - Bisabolol)
100%
coverage of white hair
The guarantee of natural tinges
and intense colours
The Aloe Vera and the combined action of the various active ingredients of organic & natural origin offer a guarantee of optimal white hair coverage, an anti-irritating action of the scalp and a shiny natural rendering.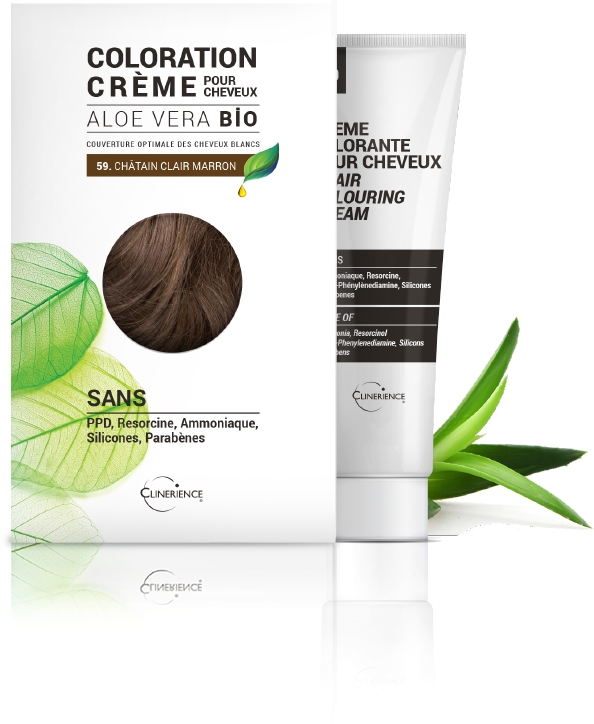 Our colourings range
HAIR CREAM COLOURING
WITH ORGANIC ALOE VERA
ANTI ALLERGIC & ANTI ITCHING
Extra Soft Formula
Genuine Beauty Care
Optimal Efficiency
Synergy of 6 Natural Ingredients
Colours supplied with 6% oxidation (emulsion) cream – 20 Volumes
NATURAL COMPONENTS:
• ALOE VERA BIO:
Protects the scalp and hair structure, prevents irritation and redness, provides shine and texture while facilitating styling.
• CHESTNUTS EXTRACT:
Nourishes and repairs the hair fiber, very active on damaged hair.
• NATURAL OIL from XIMENIA:
100% natural oil rich in unsaturated fatty acids, nourishes, hydrates and restructures the hair.
• PLANTS CERAMIDS:
They act on the repair and hydration, nourish the hair fiber and restore the hydration of the scalp.
• SWEET ALMOND OIL:
Makes the hair soft and shiny, protects the fiber from external aggressions (Hair dryer, UV rays, atmospheric agents ...).
• BISABOLOL:
Plant derived from the Brazilian forest very rich in soothing and anti-inflammatory agents.
SPECIAL SHAMPOO
FOR COLOURED HAIR
FREE
PARABENES, GMO, MINERAL OILS
95%
of the total ingredients are from natural origin
PROPERTIES:
This hair care shampoo with green tea and red tea, allows to wash the coloured hair while preserving their brightness and to revive the colors. Hibiscus flower extract protects sensitive scalps, specially formulated for coloured hair.
NATURAL COMPONENTS:
• GREEN SHEET EXTRACT:
Anti-oxidant effect, protects and prolongs the brightness of the color, astringent effect and UV absorber.
• THE RED SHEETS EXTRACT:
Inhibits the phenomena of oxidation of the colour while protecting the scalp.
• HIBISCUS FLOWER EXTRACT:
Skin care agent and purifying & cleansing effect.
• GERANIUM EXTRACT:
Toning, soothing and calming effect of the scalp.